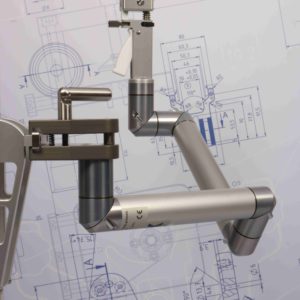 Customizable and universal
:
Medical positioning system
Positioning systems for diagnostic and therapeutic use
Our urological positioning systems from the "Solid Lock" series (Solo A and Solo B) are an excellent example for the successful use of our highly flexible and versatile products.
Precise in use – intuitive to use, that's the feedback from our globally satisfied customers. Our systems are based on our 360° articulated arm, which is complemented by one of our steppers for transperineal or transrectal applications.
In a wide range of diagnostic and therapeutic applications, SoLo A  and  SoLo B have established themselves as precise and reliable systems for ultrasound probes and needle positioning.
Prostate Biopsies
MRI fusion
Brachytherapy (LDR/HDR)
Cryotherapy
SpaceOAR
BPH Treatment (Procept Biorobotics)
Due to the modular design of our steppers, we can offer a wide compatibility with most common endo-rectal probes.
For a compatibility check with your ultrasound device and your ultrasound probe, please contact us.
BK Ultrasound
Hitachi / Aloka
Toshiba / Canon Medical
Terason
Mindray
Best Medical
SIUI Ultrasound
GE
Exact Imaging
Esaote
Sonoscape
Our systems are surprisingly compact, easy and quick to set up and dismantle and easy to clean. The articulated arm can be cleaned by using wipe disinfection, the remaining components are fully autoclavable!
Modifications or new developments of positioning systems
Outside the urological applications, our positioning systems are also well known and popular.
Are you looking for a positioning system for another application or as part of your system? We would be happy to talk to you about possible modifications or new developments of required components!
Examples of ultrasound positioning in urology